Metapathway Map of C1 Microbial Metabolism
[Graphic Index] [BBD Main Menu]
---
The C1 Metapathway Map is the EAWAG-BBD's first such map. A metapathway map is a pathway map of pathway maps. It is an attempt to graphically organize selected EAWAG-BBD pathways, show how they are related, and how they relate to other pathways not presently in the EAWAG-BBD.

This C1 Metapathway Map shows many of the varied pathways that make up C1 microbial metabolism. KEGG contains a related metapathway map for methane metabolism.

The C1 metabolic cycle is the core of this metapathway map. Click inside this core for more information on this important metabolic cycle.

indicates each pathway presently in the EAWAG-BBD. Click each one for further information on a EAWAG-BBD pathway.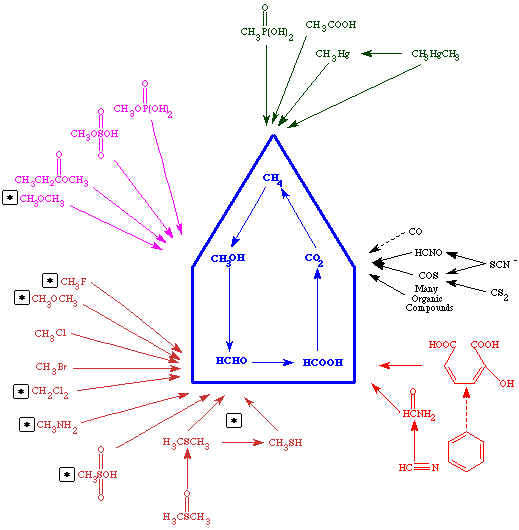 ---
[Graphic Index] [BBD Main Menu]
Page Author(s): Dr. Lynda Ellis and Jian Ma

Contact Us

© 2023, EAWAG. All rights reserved.

http://eawag-bbd.ethz.ch/c1/c1_map.html